The Leader Recognition Program is to recognize and appreciate the contributions of trip leaders to ACC-VI.
The trip leader with the highest number of trip points accumulated between January 1 and December 31st each year is eligible to win prizes.
Trip leader badges are awarded at the AGM every year. These badges may include the numbers 10, 25, 50, or 75, showing the cumulative points earned since 1st Jan 2015, the first year of our annual contest.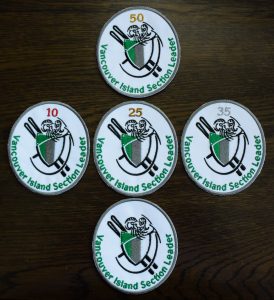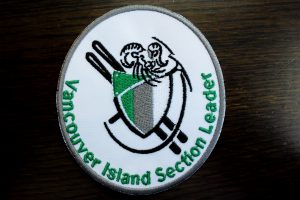 Trip-points are accumulated in the following way:
Each trip you lead earns one point per day. For example, if you lead a three-day alpine trip, you earn three points; a day-hiking trip earns one point. There is a maximum of five points per trip. Points are awarded to both trip leaders and camp managers.
Trips that are coordinated by two trip leaders, or a leader and a mentor-leader, earn full points for each leader. Both leaders have to show up and let the Leadership Recognition Coordinator (leaderpoints@accvi.ca) know there is more than one leader.
If a trip is cancelled, or if no participants sign up, 1/2 point is given.
Socials or evening events earn 1/2 point.
Training coordinators receive 1/2 point for booking training outings from outside sources.
To accumulate points:
Post trip on the schedule (schedule@accvi.ca). (The Scheduler can also provide more info on posting a trip.)
Lead the trip, and make sure the participants sign the waiver.
Send your waivers in to librarian@accvi.ca.
Trip points are posted on the website, under "trips led" only after the waivers are received by the librarian. No waiver — no points. Points are reported periodically in the Island Bushwhacker Newsletter.
———–
For CY2022, as in previous years, the top prize is a coveted Arc'teryx Soft Shell jacket. The runner-up will get an outdoor-store gift certificate of $100, and gift certificates of $50 will go to the third and fourth top point leaders. As an incentive, all other leaders who earn nine or more points will get a cap, a neck warmer, or an ear warmer of their choice, all with the ACC logo embroidered. Leadership badges will also be awarded to those reaching the next level.