Road Access to Trailhead
​Marion Main Forest Service Road provides access to the Cobalt Lake trailhead. The turnoff is 53km from Port Alberni ~5.6km after Sutton Pass. The trailhead is 9.6km from the highway. Cobalt Lake Trailhead is 400m after the large clearing that is used for the heli staging area near the top of the hill. This area can also be used for parking if there is no space at the trailhead.
A 4×4 or AWD vehicle is required for this gravel road because it is steep and rough in sections. Vehicle clearance has not been an issue, but it may be in the future. Please do not try to take a 2WD vehicle up the road because 2WD vehicles often spin their tires on hills which make the road even rougher. The steepest and longest hill is located at 8km.
Cobalt Lake Trail
The Cobalt Lake Trail is the standard approach up 5040 Peak. If parking at the trailhead, the trail starts 20m back (north) from the direction you drove in. The trail gains 700m elevation and 2.5km horizontal. It generally takes 2 to 3 hours to reach the hut. The rough trail is continuously steep with the only flat section being along Cobalt Lake. There are two fixed ropes up short rock steps. The trail has several slippery sections so appropriate footwear should be worn. Please allow plenty of time to reach the hut before dark. To stay out of the doghouse, we suggest that you do not describe the trail as "easy" to your significant other. It's STEEP!
Download GPS tracks for Cobalt Lake Trail, Cobalt Lake – Winter Up and Summit trail
Winter Access
Access in winter can be challenging. Marion Main is not ploughed, you may need to ski from the highway to the trailhead, 9km and then make your way up to the hut. Some flagging may be visible on the trail but you should either know the route well or have appropriate navigation tools.  The winter route is not the same as the summer route, see the map above, and can be significantly more difficult. It may take up to 8 hours to reach the hut and the days can be very short in mid-winter, plan accordingly. You may also need to carry skis up part of the route, in particular the old growth often has little or no snow on the ground. Although it is possible to reach the hut without crossing any significant avalanche slopes you should have the training and gear to deal with potential avalanche conditions. Check the avi conditions before you go and if you want to do any exploring beyond the hut you must have avi gear and knowledge.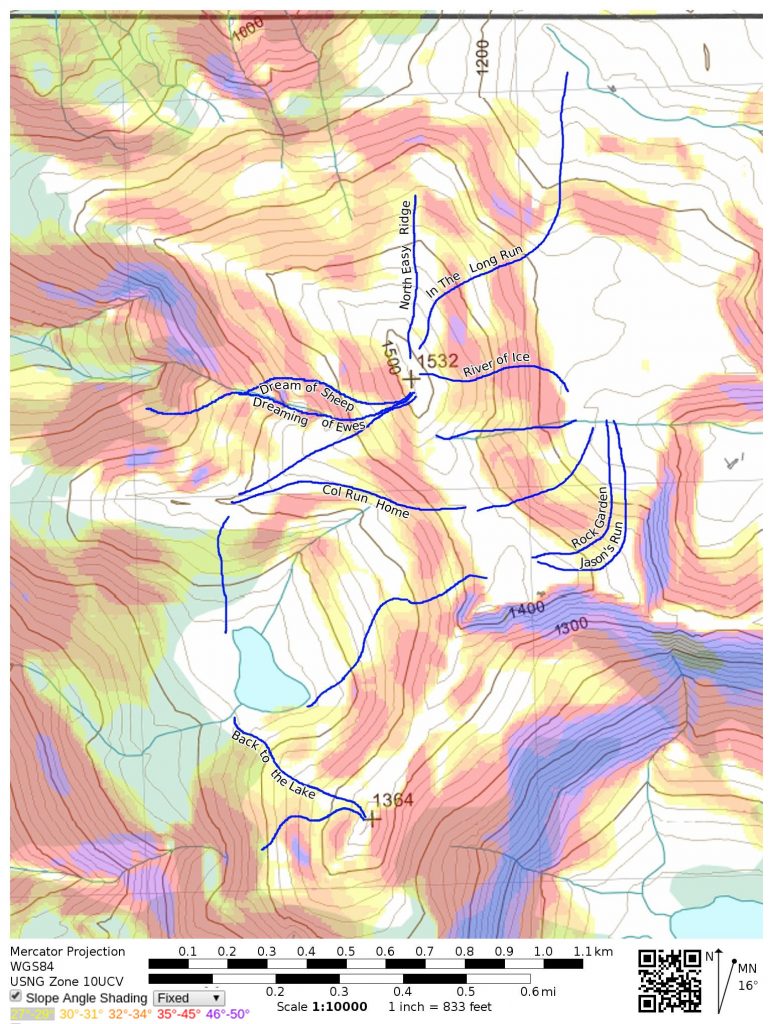 Possible ski lines on 5040 Peak​