Date: Dec 21, 2019

Time: All Day

Category: Hike

This is hike for queer, trans and/or Two-Spirit folks. LGBTQ+ folks are welcome to invite along a friend, family member or partner. (Learn more about our trips for specific groups.)
About the hike
We are going to head out to the Kludahk Trail. This remote trail is near the Juan de Fuca Marine Trail along the San Juan Ridge. It is the same elevation as Mt. Washington ski resort.
Distance: 5-10 km
Elevation: 300m elevation gain
Length of hiking: 4-6 hours (including breaks)
There are several cabins along the trail. The plan is to hike a loop from the trail head to Blueberry Cabin and Tea Hut. Our route may change based on the weather and energy of the group. We will stop in at least one cabin to have lunch and tea.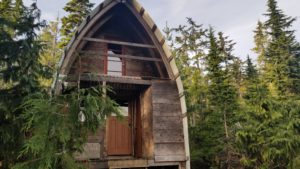 Is this hike right for you?
You are stoked to help create a safe, welcoming space.
You are comfortable being in a remote wilderness area.
You are happy travelling at the speed of the group, even if it's a bit slower than your usual pace.
You are delighted to be outside all day in various weather conditions.
What to bring:
Waterproof gear, especially a raincoat and sturdy shoes that are warm/dry in the rain.
Warm clothes
Headlamp
Food and water
Do NOT bring any alcohol, cannabis or other drugs
Logistics:
We will meet at 8:00am at the Sooke Park and Ride near Sooke River Road. https://goo.gl/maps/AyoAAsKr8Py. We will carpool in 4WD/AWD vehicles to the trail head.
No car? No problem. We arrange carpooling over email.
Do not make dinner plans in town. There is a lot of driving and we may get back a bit late.
Interested?
You do not have to be an Alpine Club of Canada member to come on this hike. You are welcome to come on a few days trips before you join the club.