Date: Nov 26, 2020 to Oct 14, 2021

Time: All Day

Category: Education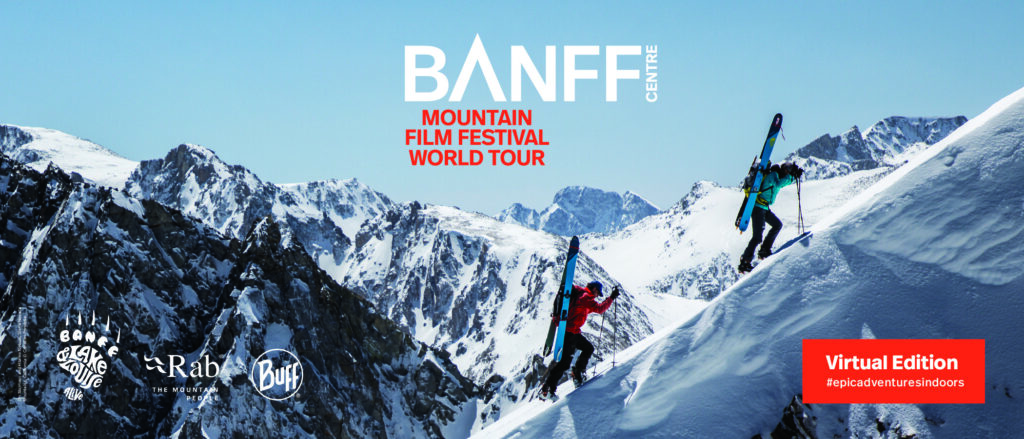 The 45th BMFF tour will be a virtual version of the tour. This means you will be able to enjoy the 'Best of Banff' from the comfort of your own home. Tickets will be on sale from 26 November 2020 – you don't want to miss this!
ACC-VI has been identified as an affiliate host of the Banff Centre Mountain Film Festival World Tour. As an affiliate, the section has an opportunity to raise funds for our programs and initiatives based on a portion of sales revenue. Your purchase will help us to promote mountain education, leadership recognition, mentoring youth and supporting families, community building and social events for our members.
Two incredible additional opportunities –
1. – Launching February 4th: TWO new film programs, RUBY and SAPPHIRE, for online viewing from the Banff Centre Mountain Film Festival World Tour!
Available as individual programs ($15 USD/3 day rental period) or in a 2-program bundle ($28 USD/14 day rental period). An "Epic Bundle" will also be available, including all 4 of the online programs (Amber, Onyx, Ruby, Sapphire).
2. – an Award Winners: Monthly Film Series program, featuring film festival award winners from the last three years will be available for online viewing ($15 USD) during the last week of each month as a recurring monthly series. Catch up on missed films or re-live some of the best that Banff has to offer.
How to buy:   Use this ACC-VI unique affiliate link: https://filmfest.banffcentre.ca/?campaign=WT-151882
Cost:      Single program is US$ 15, and a bundle of 2 programs is US$ 28.
Viewing:   Streaming through Vimeo. Single program is available for 3 days from when you start viewing; bundle available for 14 days from the start of viewing; within these time periods you can re-watch as much as you want.
Program descriptions in Google docs:
AMBER  at   amber program
ONYX   at    onyx program
One-minute teaser videos for the programs are available through Vimeo:
AMBER – – https://vimeo.com/483183213/ab4db72f9a
ONYX – – https://vimeo.com/483183335/018eee13a5
Further Details: See Google doc at: https://tinyurl.com/y2y224jq
Technical help: https://filmfest.banffcentre.ca/contact/support
Banff Centre Mountain Film Festival world tour website: https://www.banffcentre.ca/banffmountainfestival/tour
Further questions to ACCVI: bmff@accvi.ca
In past years, you and your family/friends may have supported the ACC-VI by purchasing several tickets to attend in-person film festival shows. If you are interested in making a similar contribution to ACC-VI this year, please consider making a tax-deductible donation directly to the section by downloading the Form to donate to ACC-VI which can also be accessed from the ACC-VI Memorial Fund webpage;
or send your donation directly to treasurer@accvi.ca (no tax receipt will be issued).
Thank you for supporting  ACC-VI by buying your tickets through the ACC-VI unique link.